EdgeConnector seamlessly integrates the management of physical door access into your existing IT-user administration tools, typically based on Microsoft Active Directory. Access for any number of doors, attached anywhere on the WAN, can be controlled through any combination of wireless or wired IP door control devices.
Wired door access control
The wired EdgeConnector IP Door Controller's flexible configuration options provide the highest levels of access control and integration; fully exploiting EdgeConnector's real-time, converged physical and logical, access control decision-making capability. Cabling  can  be  reduced  to  just  a  single  network  connection  per controller by using Power over Ethernet Plus (PoE+).
EdgeConnector is compatible with most makes and models of door access card readers that use the industry standard Wiegand or Clock and Data interfaces. Based on the choice of card readers, any card technology can be supported. EdgeConnector even handles multiple card  technologies  concurrently,  to  facilitate  phased  migrations  to more secure card types that employ the  latest security systems.
The basic EdgeConnector IP Door Controller interfaces include door sensor and request-to-exit button inputs, with a door relay to control door  strikes  and  mag-locks.  The  controller  can  be  expanded  to 'reader in-and-out' operation with the addition of the exit card-reader module. Extended integration modules can be added to allow inputs from alarm and other systems to be incorporated.
EdgeConnector wired solution architecture

Typical wired door control configurations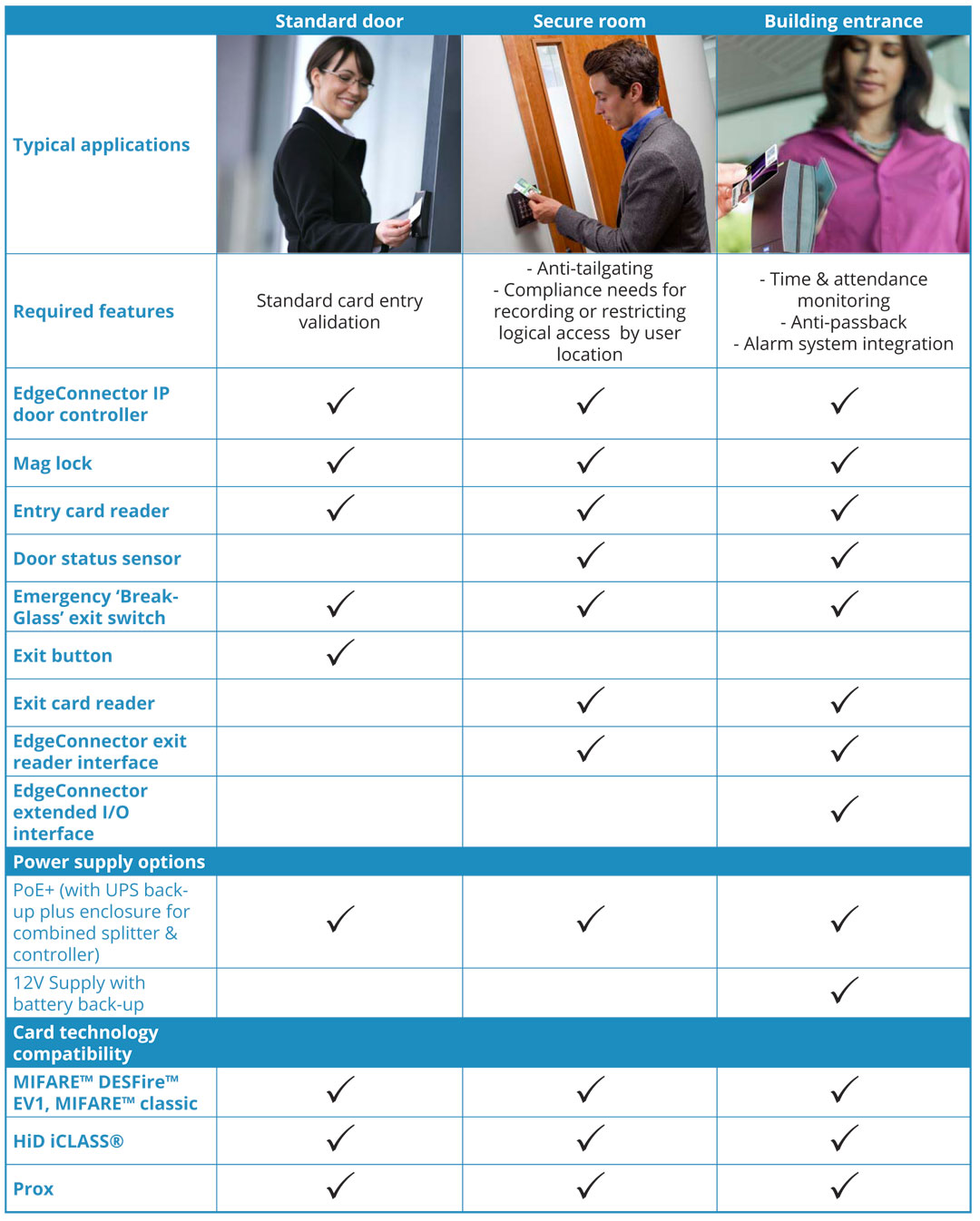 Evaluation kit
See for yourself just how simple it can be to integrate physical access control in to your existing IT access management with an evaluation kit, comprising full feature software and door control hardware.
Request evaluation kit