Why choose Axis door controllers
Axis Communication's approach to physical access control is grounded in IT security solution best practice. Axis have over 30 years of experience in developing IP connected devices, particularly security cameras, and they are bringing their globally successful open platform philosophy to the field of door access control.
The AXIS  IP network door controllers provide a non-proprietary platform for physical access control that meets typical requirements for enterprises big and small. The open API's, and ONVIF Profile C conformance, also allows video, intrusion detection and other systems to easily be integrated.
Axis door controllers are compatible with most types of door access card reader on the market, and can be powered using PoE. Each unit can control one or two doors, and when integrated with EdgeConnector they operates as fully online controllers, with internal backup database for fall-back operation in the event of network outage.
The Axis A1001 supports
Open API's, and ONVIF Profile C conformance, allowing integration with a wide range of access control solutions.
IP network connectivity and real-time host-based access control decision making.
Compatibility with an extensive range of credential readers using the industry-standard Wiegand interface.
Minimised cabling – controllers can be powered by PoE, requiring only one cable connection.
Simplified installation – controller set-up wizard and colour-coded interfaces make wiring and configuration intuitive.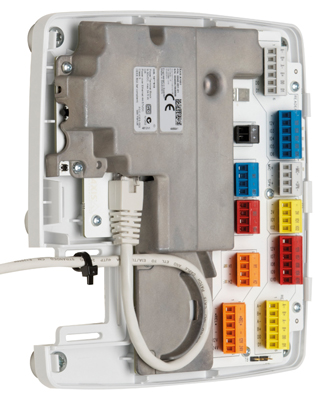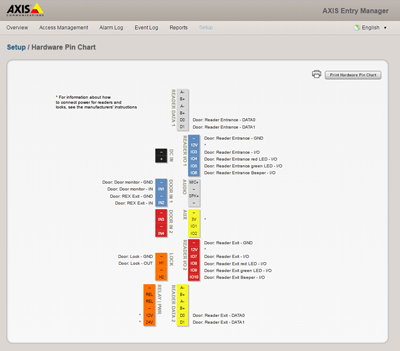 Axis A1001 (casing removed)
Controls one door with two readers – read-in & out operation, or two doors – read-in only.
Controller can be powered by PoE.
Simple installation
Axis' commitment to building simpler, smarter physical access control systems is exemplified by their colour-coded  hardware and matching set-up wizard, making wiring intuitive.
EdgeConnector compatibility
Any combination of compatible wired and wireless IP door control devices can be used with EdgeConnector, which provides management for an unlimited numbers of sites, doors and door-users as standard, by leveraging the existing IT infrastructure.