Wireless – easy to install door control
Wirelessly controlled locks minimize installation effort and cost. Any combination of compatible wired and wireless IP door control devices can be used with EdgeConnector, which provides management for an unlimited numbers of sites, doors and door-users as standard.
Easy installation
Just one standard PoE network cable to a control hub is all that's required for up to 16 doors to be managed, via encrypted wireless communication, within a typical maximum range between 15m and 40m / 50ft and 130ft (depending on the building structure and chosen wireless devices).
Wireless  locks, handles or escutcheons are straight forward to fit to standard doors with little or no modification. Built-in RFID card/fob readers are compatible with multiple contactless technology standards including Prox, iCLASS, MIFARE Classic and DESFire (supported standards vary with models chosen).
The battery life of wirelessly controlled door locking hardware is typically many years with between 40,000 and 80,000 operations, depending on device model. 'Low battery' alerts are signalled through EdgeConnector to allow battery replacement to be managed efficiently.
Energy saving
Unlike traditional magnetic locks which draw significant power continuously, whilst holding a door locked, the powered release of a lock only when access is granted dramatically reduces energy consumption. The University of Liverpool in the UK found they were saving €12000 / year on electricity costs after replacing around 1000 mag-locks with wirelessly controlled, battery powered lock escutcheons.
Fail-secure escape
In Europe the new prEN 13637 standard for electrically controlled exit systems on escape routes is replacing EN 179 and EN 1125. Wireless door hardware model options  can provide the required "fail-secure" operation, with single-point mechanical door release to allow straight forward egress in an emergency.
In the US, provided exit doors meet the normal requirements of emergency egress by turning a lever or pushing a panic device, the local authority having jurisdiction may regard such doors as not falling under the IBC model codes for Electromagnetically Locked Egress Doors.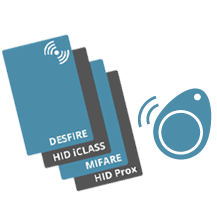 Smart cards & fobs
EdgeConnector works with a wide range of standard RFID card-types, wireless locking hardware can be chosen to support required technologies. Combined RFID door access & PKI IT log-on ID-cards can also be supplied to customer requirements.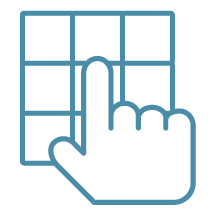 Pin-pads
A passcode can either be required in addition to a smart card, providing extra security as a 2nd factor authentication method, or in less critical applications as passcode-only authentication.